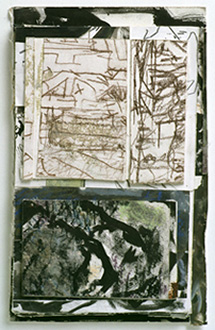 "
This spatial concept allows the painter, without abandoning the complexity of traditional means, to work from many vantage points and distance in a single piece.
The mobility of the eye makes explicit the passage of time, but, unlike film, all the alternatives remain present simultaneously.
The totality cannot be taken in at a single glance: a situation resembling the experience of
Moving Through...
"
Flora Natapoff, 1994
BORN
1936 Brooklyn, New York.
EDUCATION
1954-56 Cornell University, Ithaca, New York
1956-60 University of California, Berkeley, California, A.B.and A.M.

TEACHING
1974 Brown University, Providence, Rhode Island
1974-82 Harvard University, Carpenter Center for the Visual Arts, Cambridge, Massachusetts, (Senior Faculty)
1978-79 Harvard University, Carpenter Center for the Visual Arts, Cambridge, Massachusetts, (Director)

ONE PERSON EXHIBITIONS
1974 The Rose Museum Gallery
1975 Harcus Krakow Rosen Sonnabend, Boston, Massachusetts
1976 La Magna Gallery, New York, New York
1977 Harcus Krakow Gallery, Boston, Massachusetts
1979 Meredith Long Contemporary Art, New York, New York
1980 Harcus Krakow Gallery, Boston, Massachusetts
1981 Harcus Krakow Gallery, Boston, Massachusetts
1982 Brockton Art Museum, Brockton, Massachusetts
1983 Carson Sapiro Gallery, Denver, Colorado
1984 Barbara Krakow Gallery, Boston, Massachusetts
1986 Riverside Studios, London, England
1988 Maureen Paley Gallery, London, England
1989 Barbara Krakow Gallery, Boston, Massachusetts
1990 Interm Art, London, England
1994 Barbara Krakow Gallery, Boston, Massachusetts
1994 Bunting Institute of Radcliffe College, Cambridge, Massachusetts
1998 Barbara Krakow Gallery, Boston, Massachusetts
2007 Barbara Krakow Gallery, Boston, Massachusetts


PUBLIC COLLECTIONS
Museum of Fine Arts, Boston, Massachusetts
Brockton Art Museum, Brockton, Massachusetts
Fogg Art Museum, Cambridge, Massachusetts
Williamson Art Gallery, Birkenhead, England
American Telephone and Telegraph Company
Wellington Management Corporation, Boston, Massachusetts
Provident Institute for Savings, Boston, Massachusetts
Needham Enterprises, Needham, Massachusetts
Boston Gas Company, Boston, Massachusetts

AWARDS
1971-73 Radcliffe Institute Fellow, Harvard University, Cambridge, Massachusetts
1972-73 Kendall Foundation Grant

ARTICLES
Flora Natapoff explanation
Flora Natapoff - Misc Article
Flora Natapoff - The City And The Individual Mind
WITNESSES & dreamers
1970 Article by Flora Natapoff in Modern Occasions
1974 Flora Natapoff Rose Art Museum Brandeis University
1976 Arts Magazine
1976-77 New England Works on Paper Museum of Fine Arts, Boston, Massachusetts
1981 Flora Natapoff Construction - Sight
1981 Flora Natapoff Review BVAU News
1982 Boston Globe
1987 Boston Globe Natapoff's powerful scroll-like acrylics
1988 Boston Globe Moving Collage
2007 Boston Globe Revealing landscapes and the poetry of motion

SELECTED BIBLIOGRAPHY
1988 Christine Temin:"Summer Madness at Art Galleries", Perspectives, The Boston Globe, July 21
1988 "Cut and Paste at the Danforth", Middlesex News, May 10
1987 Globe-June, I.C.A., Boston, November
Review Catalogues, I.C.A. Boston, November
1986 Globe, October Review
1982 Robert Taylor: "An act of seeing:' Boston Sunday Globe, June 6
1981 Jane Holtz. Kane: "Cityscapes", Boston Globe Magazine, December 27, p.14-17, 26
1979 Paula Allare: "Boston Tracking a Tradition", Art News, May, p. 134-35
1975 Ann Philips: "Cambridge Artists's Energy Pulls You into Her World", Cambridge Chronicle, September 18
Robert Taylor: "Flora Natapoff's Industrial Landscapes", Boston Globe, September 11
1974 Carl Belz: Rose Art Museum, exhibition catalogue
Jane Steinberg: "The Urban Vision of Flora Natapoff", Boston Phoenix, November
Rober Taylor: "Flora Natapoff's Collage Paintings", Boston Sunday Globe, November 10

SELECTED GROUP EXHIBITIONS
1988 Summer Group Show, Barbara Krakow Gallery, Boston, Massachusetts
1988 AFFIXION: College/Assemblage/Construction. Danforth Museum of Art, Farmingham, Massachsetts, May 13 - June 19
1987 Nigel Greenwood Gallery
I.C.A., Boston Massachusetts, November
1986 "Cityscapes" Arthur Anderson Gallery, London, England, Summer 1986
1983 Inaugural Exhibition, Barbara Krakow Gallery, Boston, Massachusetts
1980 Awards Exhibition, American Academy and Institute of Arts and Letters, New York, New York
Corporations' Collections/Boston Artists, Federal Reserve Bank, Boston, Massachusetts
1978 Hassam Purchase Exhibition, American Academy of Arts Museum, New York, New York
1976 Boston Visual Artists Union Invitational, Boston, Massachusetts
Harvard University Faculty Show, Harvard University, Cambridge, Massachusetts
Hassam Purchase Exhibition, American Academy of Arts Museum, New York, New York
Works in Progress, Museum of Fine Arts, Boston, Massachusetts
1974 Faculty Show, Brown University, Providence, Rhode Island
1973 Radcliffe Institute, Cambridge, Massachusetts